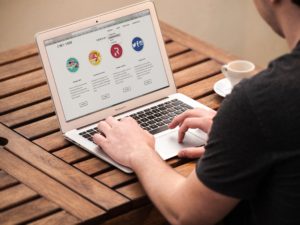 Our Web Design
Web Ireland is a unique design firm offering a variety of services from basic Web Design to complete e-commerce website development. We have created and launched hundreds of successful websites since our inception, for many different types of businesses.
Our web designers have the creative talent to appeal to your sense of style, the training and knowledge of current web standards and practices, and the ability to turn your ideas into reality! Our website design clients range from small start-up companies to large corporations and everything in between.
With our combined experience in graphic design, website development and e-commerce stores, you can be confident that whatever your project demands, our web developers can deliver. Browse our portfolio and when you are convinced of our abilities, you may request your no cost, no obligation quote.
You will need to let us know the navigation links you would like (such as home, about us, services, etc) and supply all text and/or product information to be included on your site. In addition, you may also supply material such as company logo, personal photos, etc, if desired.
If you have any guide sites you would like us to refer to when designing your site or if you have any preference as to colors, style, etc please offer that information as well.
Designing your Website
For E-Commerce sites that require us to enter products for you, we will need you to supply an Excel spread sheet listing the following: Product Name, Unique Product ID Number (if any), Product Description, Options (if any size, color, etc), Price, Approximate Weight, Number in Stock, as well as the product photos named in correspondence with the Product ID Number on the spread sheet.
Ideally, all of the above information should be supplied prior to us getting started.
Once we receive all this information we will create a Proof Website for you and send you a link where you will be able to view and suggest any changes in any part of the design. Once the proof is finalised we can start building your website.
We will then show you your website hosted so you can browse through and correct any errors / omissions or add more images.
Once finalised, we will be ready to put your site live.